Long Island Emergency Plumber » Heating Repairs » Thermostat Repair
Installing, Repairing, Replacing And Reprogramming A Thermostat – What You Need to Know
In this article we will look at what to know when installing, repairing, replacing and reprogramming your thermostat. Your thermostat is arguably one of the most important components of your heating system. The convenience of turning a dial to cool down in the humid summer months of  Long Island or warm up in the frosty winters cannot be overlooked. So when it breaks down, you will want to know what to do and in severe cases, who to call for assistance.
Installing/Replacing The Thermostat By Yourself Vs Hiring A Professional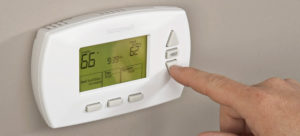 Thermostats come in a wide range- analogue, digital, wired and wireless. If you want to try and go it alone replacing yours, you'll need to know what specific type and model it is. The next question is what the best replacement would be. Older models have wires that must be disconnected, bent and labelled after removing the front cover. Before doing this, the power should be shut down. Secure the wires to prevent them slipping back into the wall. Next, wipe the exposed copper with a steel sponge.  Unfasten the base of your replacement thermostat, remove the fastener to your wires in order to feed them into the new base then fasten them back. Now you're more or less ready to fit your new thermostat. One important point to remember-if you have a particularly old thermostat, the mercury must be disposed of according to mercury thermostat state legislation guidelines. Find out where your local collection and recycling program is and get in contact with them.
Even carrying out this seemingly simple task needs a certain skill-set and there is plenty of room for error. If you feel unsure of your abilities, call up a licensed professional.
Making Repairs To Your Thermostat
Some rudimentary repairs you can make by yourself are changing batteries, cleaning out dust and adjusting the balance so your mercury switch works properly (this last task will need at least some previous D.I.Y experience). For HVAC systems, open up the box for your thermostat and look for a small scale with a tab known as the 'anticipator.' Turn this tab upwards or downwards to increase/decrease the HVAC cycles to your preference.
More complex repairs like maintenance or caulking are best carried out by seasoned handymen, taking proper care of the numerous tiny and delicate parts of a thermostat isn't easy unless you have a thorough knowledge of them.
Reprogramming And Calibration
You'll need to reprogram your thermostat due to weather changes, changes to your working hours or going on holiday. Finding that reset button and setting up a heating/cooling schedule can be an enormous headache. You'll want to be 100% certain of what you're doing if you wish to fix, calibrate or replace your thermostat. If you have even the slightest doubt, defer the matter to a qualified pro. Our workers at Millennial Plumbing & Heating will be glad to help or advise on any heating repair or installation. Call us at (631) 533-2424  for your thermostat requirements.