Long Island Emergency Plumber » Heating Repairs » Heat Pump Repair, Replacement And Installation
Heat Pump Repair
Heat pumps are a great solution to the summer heat and chilly winters in Long Island. They are environmentally friendly, low cost and efficient. They are however prone to leaking, 'icing up' and overheating, a bit like refrigerators do.  Usually, the first warning sign is an inoperative thermostat. An experienced handyman will have no difficulty taking off the cover and correctly positioning the heating control known as a 'subbase' just right so your  on/off 'mercury' switch works correctly.
Why Your Heat Pump Keeps Shutting Down And What To Do
If your heat pump repeatedly shuts down even after turning it back on via the trip switch you must leave it off and contact a qualified professional without delay. A number of complications could be causing this problem such as your ELCB (Earth leakage circuit breaker) detecting a surge in electric activity or faults in your compressor. It could be something as simple as dirt inside or outside your equipment. It may just be the equipment itself is old and parts need replacing if not the entire system. A reputable licensed repairs worker will quickly isolate the problem and consult you on any maintenance or restorations required.
How a heat pump works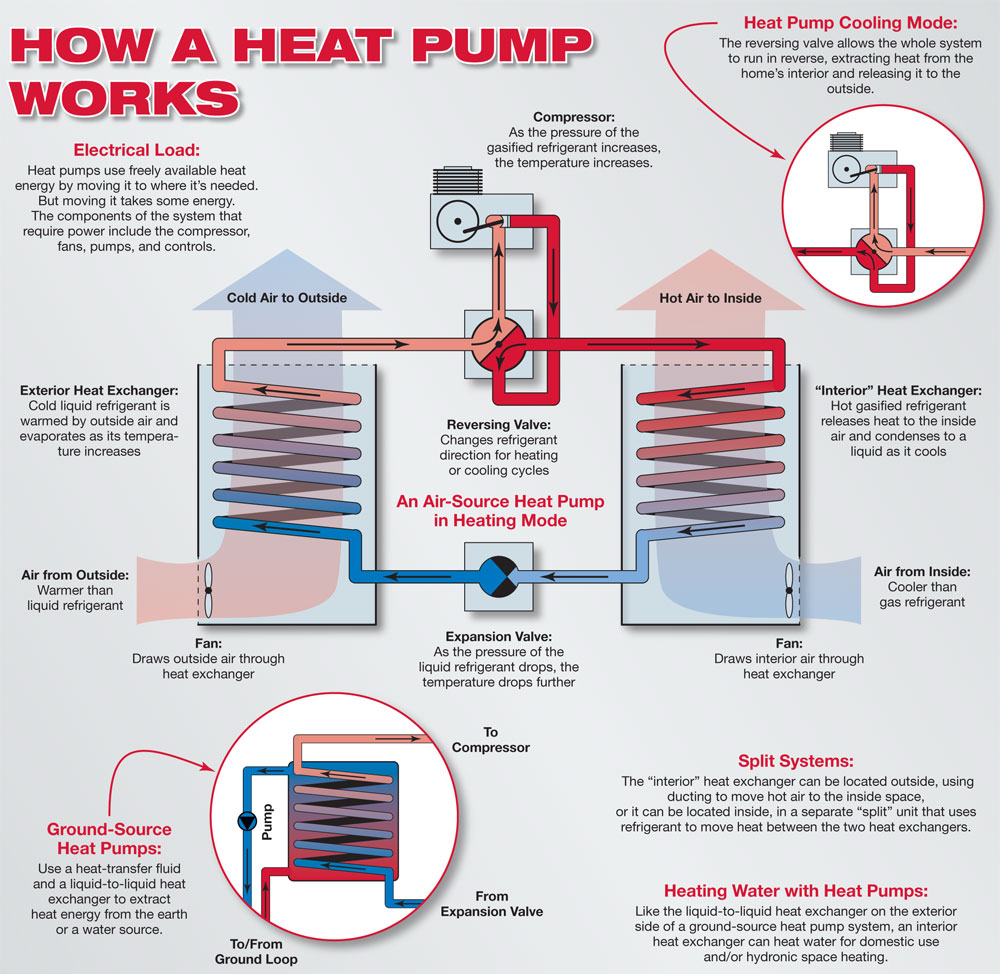 Heat Pump Installation Long Island
When Your Outside Unit Gets 'Iced Up'
As mentioned earlier, Heat Pumps work in a similar fashion to a fridge freezer.  They too can, and do get covered in ice in both summer and winter. This can be due to not defrosting, a damaged or broken fan motor impeding the release of heat or leaking refrigerant. Such defects stop the proper cycle of air extraction leading to excessive build up of ice. If your outside unit is covered in a thick layer of ice don't take action into your own hands.  You should contact a technician who can check for internal damage to the system and effectively troubleshoot the problem.
One tip to help avoid this is to keep your surrounding area outside clean and tidy, remove weeds, plants or refuse to significantly reduce the risk of system failure. Consider hirirng an experienced company for your heat pump installation.
Replacing Your Old Heat Pump
When its time to replace the old heat pump, check your warranty/guarantee to see if you're covered. The average cost for replacements ranges from $4,000-$7,000 which is pretty steep. Ideally, you'll want to strike the balance between affordability and quality workmanship. Paying a bit more can be painful but a shoddy installation is a much bigger heartache so chose carefully. Budget for the heat pump itself,  installation fees, materials and any additional special hardware needed to fit your new system. It must be emphasised that this is a highly technical and complicated task that must be carried out by an expert. Don't scrimp on a refit, handymen who lack experience and who use the wrong tools and methods are a liability to your finances and safety. A proven track record, sound knowledge and the best tools should be a priority. When you're ready to call out someone, make the smart choice and call Millennial Plumbing & Heating for all your heat pump installation, replacement and repair needs.