We install Navien boilers and water heaters – Call for a Free Estimate
Navien's Condensing Tankless Water Heaters are a great option for any home and can provide an instant supply of hot water on demand because they  activate right when you open the hot water tap. Each time you turn on the faucet, shower, or other water outlet, Navien's Condensing Tankless Water heater will immediately detect the flow and begin delivering the desired hot water.
Navien offers several models of Gas Tankless Water Heaters, Gas Combi Boilers and Gas Heating Boilers. Navien's products possess state-of-the-art technology, high efficiency and reliable quality.
How does a Navien Boiler work?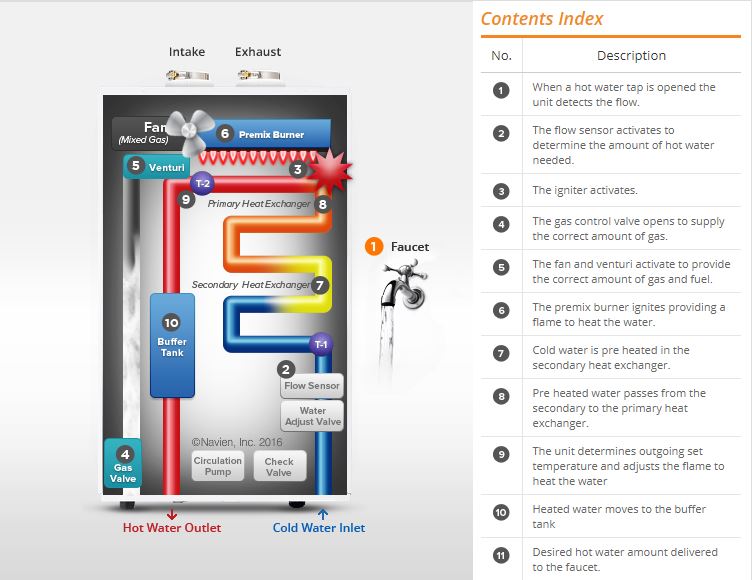 With the season of cooler weather fast approaching, you may be thinking of buying a new boiler. This can be difficult when you have no idea about boilers. You do not have to go through all the stress when you have Navien boiler installation Long Island, experts. There are various things put into consideration before choosing a boiler such as the type of boiler, size, energy efficiency, construction, and for most people the cost. These factors will impact your energy bill in your home, which is why you must be extra careful when thinking through your options on which particular boiler to buy.
Boilers come in different type and it is necessary to have a professional to consider which will be appropriate for your building.
Conventional boilers
This type of boiler makes use of a storage tank for supplying hot water. Through the cast iron heat exchangers, the water is heated. The combination boilers have the capacity of supplying gallons of hot water in one fold. Immediately the hot water stored runs out, the tank tries to refill, which causes a delay in the supply.
The conventional boiler needs more space when compared to the combinational boilers because you have to connect the hot water cylinder to a cold-water storage tank. What this means is that the installation process is more complex than the combination boiler. For old models of the conventional boiler, they have a less energy efficient issues; however, newer models can match some heating requirement for your home. The newer models can be adjusted, which will require a Navien boiler installation Long Island expert.
Combination Boilers
Combi or combination boilers are normally used in areas where space is an issue. They supply from the main outlet directly without any need for a storage tank. Unlike the conventional boiler, the Combi boilers source hot water in an unlimited supply. A new Combi boiler will afford you the advantage of enjoying a hot shower without requiring any form of additional shower pump.
The cost of a new Navien boiler
One reason most people prefer repairing their boiler is the cost of buying a new one. No matter how you see it, investing in a new boiler is an investment that will save you from high-energy bills. New boilers can be expensive, but they are less likely to experience breakdowns. If you consider saving money and time important, getting a new boiler is a smart choice.
Is there any benefit in investing in a new boiler?
Your boiler makes up a large portion of your total energy bills and getting an efficient boiler will surely make a huge difference. Irrespective of your decision to buy a top or basic boiler model, having a new boiler that is energy efficient can save you big bucks. Aside from this, investing in a new boiler means better water pressure, improved performance, and reduced breakdowns. Furthermore, a faulty or damaged boiler can release harmful gases such as carbon monoxide into your home. This is not good for your health and can even be fatal. Navien boiler installation Long Island professionals will always advise you to avoid the risk of poisoning from carbon monoxide by investing in newer boiler because they come with inbuilt safety measures.