Why Your Heating System Needs Efficiency Testing
We have often discussed what dangers can arise from a badly maintained or poorly fitted furnace heater or boiler. We also mentioned the importance of annual check ups to ensure everything is in working order. But another important check that should be carried out is 'heating system efficiency' testing.
Why Your Heater's AFUE Rating Is Important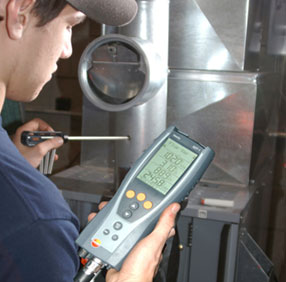 Your heater or boiler comes with an AFUE rating; energy.gov explains what the   AFUE rating means this: "a measure of how efficient the appliance is in converting the energy in its fuel to heat over the course of a typical year." It's important to get this annual test done to ensure your furnace heater or  boiler is giving you the best value for money and providing your property with the right amount of warmth.  At Millennial Plumbing & Heating, we offer a concise yet comprehensive range of tests at an affordable price. We carry out full oil burner inspections, visual inspection of your furnace heater/boiler and inspection of all control points such as the thermostat and pilot light.
Time For An Upgrade?
Furnace Inspections on a regular basis serve the dual purpose of extending the life of your furnace heater/boiler while also identifying early warning signs that it may be time for an upgrade. Our thorough checks will pinpoint parts that need replacing or whether its time to install a new heater. We will advise you on the range of models available and which is best in terms of economic value and most suitable for your property. And of course, we can fit that new system at a time of your convenience and at an affordable cost.
Oil Furnace Efficiency Testing on Long Island
Replacing Parts, Modification And Oil Refill
At Millennial Plumbing & Heating, we supply replacement parts for your heater/boiler, we can modify it with additional hardware to optimise its performance and we can refill your heating oil. Call us on (631) 533-2424 for all your heater related needs and we'll ensure a friendly, reliable and most of all, a professionals service. Whether you're based in Long Island, Suffolk or Nassau County, we can be at your residence  promptly to carry out inspections and maintenance to your heater.
Upon assessment of your heating system, our technicians may suggest alterations to improve the efficiency of your heater. If you have a hot water boiler, an aquastat will help regulate the temperature of your water according to the seasons. A time delay relay will release previously heated water when required to help make further savings on your energy bills. A vent damper could help conserve heat between on/off cycles. Adjustable radiator vents and valves perform a similar task, allowing you to isolate your heat to certain rooms. Programmable thermostats let you schedule your heating cycles for the best/most needed times of day/night. A tankless coil will provide hot water on demand rather than constantly, a great way to save money in the summer months. Our servicemen at Millennial Plumbing & Heating will ensure your heating system runs efficiently.