Long Island Emergency Plumber » Heating Repairs » Emergency Furnace Repair
Need Furnace Repair on Long Island Fast? Call Us Now!
Do You Have A Furnace Heater?
Across North America, most houses have furnace heaters. Furnace heaters or 'forced air central heating systems' distribute air through ducts and vents. The air is heated by a furnace that allows warm air to spread around your property. Your control point is the thermostat where you can set the desired temperature. To achieve the cycle of warm air, cold air is sucked into he system also acting to remove dust and pollen.  The cold air gets warmed up by the air handler, a kind of filter that introduces cleaned air to the furnace before it is dispersed back through inlets to create the warming effect.
Furnace Playing Up? Call Us Straight Away And Stay Safe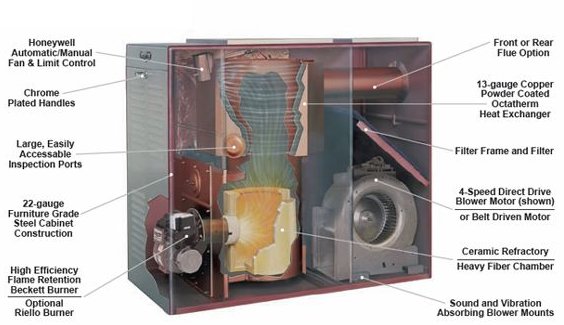 The furnace heater is of course, essential to the heating system but so are the other components, in fact the entire network that makes up a furnace based heating system is interdependent. If one part breaks down it can affect the entire system. At the very least, a faulty furnace heater will affect the heating but worse than that are related problems such as carbon monoxide leakage (caused by a lack of oxygen getting into the furnace), or chimney fires (caused by a build up of soot in the flue). Such issues can be remedied by regular maintenance check ups carried out by licensed professionals. What can't be fixed so easily is a poorly fitted furnace heater or a worn out/old heater. Whatever the reason may be, if you live in Long Island, Suffolk & Nassau County and you find yourself in a situation that comprises your safety, switch off all appliances, ventilate your home then leave without delay. Call 9/11 and while you're there, give Millennial Plumbing a ring on (631) 533-2424 and we'll be right there. You can rely on us for best quality emergency boiler /furnace repair.
The Dangers of 'puffbacks'
Oil fired boilers and furnaces run the risk of 'puffbacks' caused by unburned oil exploding inside the combustion chamber of a boiler/furnace. Oil leaking into the pipes and air bubbles trapped inside them lead to explosions which can be severe depending on surroundings and nearby combustibles. Oil and dirt are the main culprits when it comes to heating hazards. Its hard to keep on top of all this not to mention risky to your own health. Never even try to solve issues with your furnace/boiler if you're unsure. Millennial Plumbing can take care of it. Our experienced technicians are on call day and night. Our call out rates won't cost the earth but the decades of experience and our renowned customer service will make you feel a lot better when everything is running smoothly again.
Save Money And Stay Secure With Regular Furnace/Boiler Checks
As mentioned earlier, regular check ups will increase the lifespan of your heating system and reduce the chance of breakdown.
emergency furnace repair
24 hour heating repair service
plumber on call for oil burner service
burner repair on weekends, Sundays and nighttime
furnace installation
furnace replacement